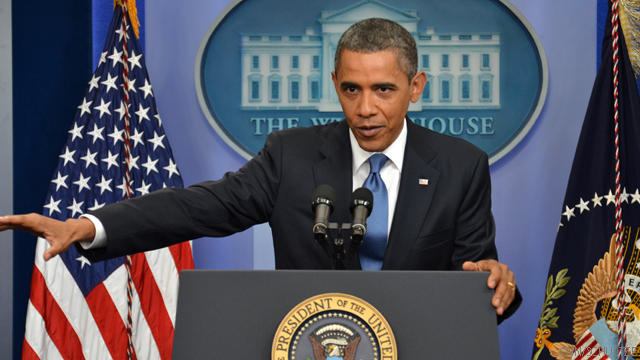 At once tired and energized. Likes energy drinks. Me, too, Barrack. Me, too.
About 3 years ago,
I predicted Barrack Obama would be elected President of the United States of America
. Not a big deal by itself, considering I had a 50% chance of being right, but the reason I did so might shed some light on recent goings on in D.C.:
"The President is a figurehead....I am not saying the President of the United States is
merely
a figurehead, but that job is implicitly a part of the position. Which is why supposed lack of experience didn't stop Bill Clinton or George W. Bush from winning the office; why people whose best interest and politics ran counter to Ronald Reagan voted for him; and why Nixon was forced out
not
over engaging in illegal and unauthorized wars or for destabilizing countries and plunging them into decades of tyranny, but for having some of his staff break into a hotel. It is also why Barrack Obama will beat John McCain."
Now, with the debt ceiling debacle coming to a merciless close, we see President Obama (along with most of Washington, D.C.)
backing down in the face of irrational opposition
from a minority within a party which controls one half of one of the three branches of our federal government. By the end, both Democrats and Republicans moved further to the right of their starting positions, forcing a 'compromise' about which no one is happy; which likely wouldn't have seemed reasonable to Nixon, Ford, Reagan, or either of the Bushes; and which stands to cut spending while each state and locale is already strapped for cash, when millions are out of work, while economic growth is nearly stalled, and as much of the country's infrastructure is actually crumbling. No new streams of revenue are proposed. Tax cuts and shelters will remain in place. Rating agencies will
continue to harbour niggling doubts
of what once seemed certain. Now isn't the right time, but, maybe, if we are lucky, further down the line, this may help to lower the deficit,
if it doesn't blow up in our faces
.
This is a major failure. It impugns the Tea Party, the Republicans, the culture and capabilities of those in the capital, and the leadership of those nominally in charge. And, of course, since the president is the most nominally in charge, his abilities are most in question. We are left to wonder, for example, whether he's any good at brinkmanship, negotiation, selling a plan of action to the American people, or even making such plans. Perhaps he is too charitable, too reasonable, and too willing to bargain to handle the intransigence of right-wing ideologues. Perhaps he himself is an ideologue, driven to follow a mantra of compromise even when there is no give-and-take, only give. More likely, his worries centre on two things: avoiding a complete meltdown in relations between his administration and the Republicans (who have shown they will stop any bill they want, no matter what might happen to the country), and getting reelected.
The first aim, if not fruitless, shall offer nothing sweet. After all, the Republicans have set out to force what have been predicted to be economic doomsdays if they didn't get their way on this and (previously) on extending Bush's tax cuts for the wealthy. They are willing to sacrifice the well-being of the country in order to get what they want, and the President is not, so they will win every time. Obama isn't be cut-out to deal with passengers who would rather see the boat go down than let him steer it.
The second aim (while probably pointless if things persist in this manner) actually seems to have been well served over the course of this mess, despite polls. Obama has come out looking reasonable and level headed. He has been seen as one of the few adults in the fracas, and the American people largely came to his position before Congress did. His speeches and press conferences went well. Republican leadership to requested his further involvement in the negotiations, as they declared him to be the only person who really mattered in all of this--even when they did so as an attack, the underlying principle remained. Whether he can steer or not, Obama cuts a dashing figure on deck. People like him. He
seems
presidential, and that can go a long way to winning a presidential election.
If he had only been born the King of England, he'd have it made.